Humanitarian immigration



Persons persecuted on political grounds shall have the right of asylum, article 16 a of the German constitution, the Basic Law (Grundgesetz), says. The procedure of how to recognize foreigners seeking asylum is regulated in another law, the Asylum Proceeding Law (Asylverfahrensgesetz). The new law says that even a non-governmental persecution is a reason for asylum if the home state is not capable of granting protection. In addition, persecution for reasons of gender obliges the German state to grant asylum. Apart from this, foreigners find a temporarily asylum if the European Union decides to do so.

Victims of human trafficking

Victims of human trafficking: These women or men may receive a limited residence permit if the stay of these people is necessary for a criminal procedure against a suspected person charged with human trafficking. The applicant must be willing to witness in court. Even foreigners who entered Germany illegally may benefit from this allowance. If a permit is issued, the foreigner may receive a work permit, his employment is not subsidiary to the employment of a German or a citizen of the European Union.

Immigration of children whose parents already live in Germany

As before 2005 children of foreigners may move to Germany if they are not older than 16 and have parents living in Germany. Further on, a child of the age of 16 or 17 shall receive a permit if it speaks German or can adjust to social life here or if the parents have been recognized as persecuted people or if the child immigrates together with the parents who have a permit. In other cases granting a permit to a child is left to the discretion of the authorities.

Immigration of the spouse of a foreigner or German

The immigration of the spouse of a foreigner has been made less easy by the changes of August 2007. The husband or wife of a foreigner may immigrate to Germany if both are at least 18 years old and if the foreigner has a settlement permit or a long-term resident's EC residence permit or a residence permit, the residence permit is only sufficient if certain requirements are being fulfilled (residence permit has been issued at least two years ago or both partners in marriage are already married and the stay in Germany will last at least a year). The following spouse must be able to communicate in German in a simple way (this does not apply to citizens of the USA, Canada, Australia, Israel, Japan, South Korea and New Zealand). With regard to a spouse from Turkey, the requirement of a basic knowledge of the German language has been declared contrary to the EU law by the Court of Justice of the European Union (judgement of 10 July 2014 C-138/13,

source: press release of the court of 2014-07-10

).

These regulations have been aggravated in order to avoid marriages against the woman's will. Even if the foreign spouse of a German wishes to immigrate to Germany, it is generally requested that the foreigner is at least 18 years old and speaks a little German.

Clause for hardship cases

Even if a foreigner can't get a resident title and is obliged to leave the country there is a chance to help him. The federal states create commissions for cases of hardship where applications can be delivered to. The commission does not grant the permit itself but speaks out a recommendation to the authorities.

Integration

The new law contains the state's duty to offer help for integration. When a permit is being issued for the first time a foreigner has a right to take part in a course of integration. This course consists of a basic part and an additional part where the foreigner should learn something about language, law, culture and history of Germany. In some cases it is necessary to participate in such lessons: 1) If the foreigner has a right of participation and is unable to explain something to Germans or vice versa or 2) if the foreigner receives unemployment money 2 (welfare for those who are fit for work) or is in big need of integration and has been asked by the authorities to take part in a course. If a recipient of unemployment money 2 stays away his benefit may be lowered by 10 %.

Procedure Rules


Since the beginning of 2005 it is not necessary to ask separately for a residence permit and a work permit because the Federal Agency for Labour shall be heard before a residence permit will be granted. The residence title must say whether the grantee is allowed to work or not.
Apart from the visa for shorter stays there are only three residence titles: the limited residence permit (Aufenthaltserlaubnis), the unlimited settlement permit and the long-term resident's EC residence permit (introduced in August 2007). As before 2005 a foreigner who is obliged to leave the country may receive an acquiescence if a summary return to the native country is impossible or humanitarian aspects speak against it. In case of obstacles for such a return a residence permit can be granted in order to avoid a chain of acquiescences if a fast departure is not realistic.
The conditions for a settlement permit are the following ones: a residence permit for at least five years + secure livelihood + contributions to the pension scheme for 60 months or an appropriate assurance + no severe offences in the last three years + employment allowed + sufficient skills for executing a job + sufficient knowledge of the German language + sufficient knowledge of the legal and social system of Germany + sufficient housing (times of studies or vocational training in Germany can be taken into account at half with the five-years time. The period for self-employed applicants can be shortened to three years).

The

long-term resident's EC residence permit

(Erlaubnis zum Daueraufenthalt-EG) is nearly similar to the settlement permit. The introduction of this new kind of permit became necessary because the settlement permit is not totally identical with the permit prescribed in a directive of the European Union and Germany had to put this directive into action. The long-term resident's EC residence permit is an unlimited permit and the conditions for getting this title resemble to those of the settlement permit. The five-year time can be fulfilled with times spent outside Germany (a stay abroad due to a deployment for reasons of the job) or with earlier times spent in Germany before the foreigner's departure to another country (which was followed by the loss of his residence title). Times of studies or vocational training in Germany can be taken into account at half with the five-years time. One of the great advantages of the long-term resident's EC residence permit is the facilitation of longer stays of a foreigner in other countries of the European Union. In return, foreigners who have had the status of a long-term resident in another member state of the EU have a right to receive a residence permit for Germany.

The Federal Office for the Acknowledgement of Political Refugees has been renamed to Federal Office for Migration and Refugees.

Residence titles which have been granted before 1 January 2005 remain valid (the "Aufenthaltsberechtigung" or the unlimited "Aufenthaltserlaubnis" as a settlement permit and the other permits as an "Aufenthaltserlaubnis"). The same applies to all orders spoken out by the authorities. In the old law there were four titles.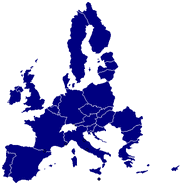 The stay of citizens from the member states of the

European Union

and the

European Economic Area

has been facilitated. If such a European comes to Germany for a stay which should last longer than three months he does not have to ask for a residence or work permit. Like Germans, he or she has only to tell his move to the registration office. The legal basis for this treatment is the Law on the General Freedom of Movement of Community Citizens (Freizügigkeitsgesetz/EU [FreizügG/EU]).
If a European has received unemployment money financed by own contributions in his homeland he may receive this money here up to three months after his entry to Germany.
Foreigners who have a right to stay here only because they are looking for a job (that applies generally to citizens of the EU) and who have not yet worked in Germany shall not receive unemployment money 2. This regulation is now also applicable for citizens of EU countries that have signed the European Convention on Social and Medical Assistance. Earlier, the Federal Social Court ruled out that these restrictions shall not be applicable if the EU-foreigner's home country has signed the European Convention on Social and Medical Assistance (judgement of 19 October 2010 B 14 AS 23/10 R). In December 2011, the Federal Republic of Germany declared a reservation to the European Convention on Social and Medical Assistance. According to this reservation, Germany does not feel being obliged to treat foreigners like its own citizens. This means that EU citizens looking for a job in Germany may not receive unemployment money 2 if they have not worked earlier in Germany or if they do not have a certain income even the foreigner's home state has signed the European Convention on Social and Medical Assistance.

The European Court of Justice confirmed the clause in the German law on 15 September 2015 (C-67/14). Denying EU citizens entitlement to certain special non-contributory cash benefits does not contravene the principle of equal treatment if the foreigner's right of residence in the territory of a host Member State arises solely out of the search for employment. Where an EU citizen who has enjoyed a right of residence as a worker is in involuntary unemployment after having worked for less than a year and has registered as a job-seeker, he retains the status of worker and the right of residence for no less than six months. During that period, he can rely on the principle of equal treatment and is entitled to social assistance. Where an EU citizen has not yet worked in the host Member State or where the period of six months has elapsed, a job-seeker cannot be expelled from that Member State for as long as he can provide evidence that he is continuing to seek employment and that he has a genuine chance of being engaged.

However, in this case the host Member State may refuse to grant any social assistance

.

(Source: press release of the European Court nr. 101/15 of 2015-09-15).



In the case of economically inactive EU citizens who came to Germany solely in order to obtain basic social benefits, the European Court of Justice judged that an EU state must have the possibility to refuse these benefits. The stay of such applicants does not have a legal basis under the directive of the EU in the host Member State, the court says. In addition, the court pointed out that, under the directive, the host Member State is not obliged to grant social assistance to other EU citizens even during the first three months of residence. (Judgement of 2014-11-11 C-333/13,

source: press release of the European Court nr. 146/14

).



With the beginning of 2017

, a clarification of access to social benefits for foreigners from the European Union came into operation in German law. Those who are not employed or self-employed are not entitled to long-term basic unemployment support or welfare within the first five years of their stay. But temporary benefits for the time until they have left Germany may be granted for up to a month (in cases of hardship even longer). If an EU-foreigner has worked in Germany for at least a year, he is entitled to unemployment insurance benefits or basic unemployment benefits (welfare) like German citizens. For applicants with a shorter time of employment, basic unemployment support is accessible for a maximum of six months.

Related persons of Europeans who are not citizens of a member state of the EU shall be granted a certificate about the right to stay here. The certificate will expire after five years.

After a legal stay of five years in Germany Europeans have a continuous right to stay.

There were restrictions for Europeans from the Eastern European states that joined the EU in 2004 and later. From 1 May 2011 on, these Eastern European apart from Romanians and Bulgarians have to be treated like Europeans from the old member states. On 1 January 2014, also Bulgarians and Romanians got free access to the German labour market. The restrictions for citizens of Croatia expired on 1 July 2015

(Source: Press release of the German Federal Ministry of Labour and Social Affairs)

.

Residence permit for foreigners living long-time in Germany with an exceptional leave to remain


The future status of foreigners without a residence title whose deportation has been temporarily suspended remains a big task for the German authorities.

Generally, a foreigner with an acquiescence

(in German: Duldung)

shall be given a residence permit if his or her deportation has been suspended for 18 months and if the foreigner is prevented from leaving the federal territory through no fault of his or her own. Fault on the part of the foreigner shall apply in particular if he or she furnishes false information, deceives the authorities with regard to his or her identity or nationality or fails to meet reasonable demands to eliminate the obstacles to departure. The other requirements for a residence title must also be met (livelihood secured. Before the completion of 18 months, issuing a residence permit is a question of latitude).



Facilitated integration of young foreigners with an acquiescence

: Young foreigners under 21 years of age shall be granted a residence permit if he or she has been staying in Germany for at least four years, goes to school for at least four years or has achieved a high school diploma or a vocational qualification, is familiar with the living conditions in Germany and supports the free democratic basic order. If the parents of such a young privileged foreigner do not get a residence permit, their deportation shall be suspended.



Right to stay for well-integrated foreigners with an acquiescence:

Since August 2015 it is easier for some foreigners with an acquiescence to obtain a residence permit. These regulations are applicable regardless of the age of the foreigner or a certain deadline. A residence permit shall be granted to foreigners who have stayed in Germany for eight years or longer (six years are sufficient in case of care for a minor child), support the free democratic basic order and have a certain knowledge of the political and social system and the living conditions and if he or she secures the livelihood mainly by own work, has sufficient skills of the spoken German language (A2) and proves that his or her child attends school regularly. A temporary dependence on social benefits is no obstacle in case of students and apprentices or in case of families with minor children (single parents with children under three years) or in case of long-time care of close relatives.

Other novelties in 2011

Apart from the regulations for young foreigners without a residence permit (see above) some other changes have been introduced by the law of June 2011. Forced marriage has now a become a crime and the time for the repeal of such a marriage has been prolonged to three years. The victim has now a right to return to Germany if the victim has been integrated into the German society before the wedding or if there is a good prognosis for the integration. Other new regulations intend to avoid sham marriages, stress the need of participation in integration courses or loosen the obligation of certain foreigners not to leave a particular area.

Novelties in 2012: Blue Card and other changes


On 1 August 2012, a new kind of residence title was introduced in the German law: the "Blue Card". The "Blue Card" is for foreigners from outside the EU with a work contract and an income of at least 50,800 euro a year (in 2017). Applicants must have a university degree and prove the contract and income. A lower income limit of 39,624 euro (in 2017) will be applicable for jobs with a significant lack of adequate staff (this applies to all kinds of engineers, academic and related experts of the information and communication branches, natural scientists, mathematicians and doctors). In case of the lower income limit there will be a proof whether the work conditions are similar to contracts of domestic employees. Holders of the "Blue Card" will have the right to get an unlimited residence title if they have stayed in Germany for at last 33 months. A shorter period of 21 months will be applicable for foreigners with knowledge of the German language (B1 level). Family members will have the right to stay and work as well when the document is issued.

The "Blue Card" is based on the directive 2009/50/EC on the conditions of entry and residence of third-country nationals for the purposes of highly qualified employment. A directive does not apply directly in the member states of the EU but the directive must be adopted by the national legislature which in Germany consists of the parliament ("Bundestag") and the "Bundesrat", the representation of the 16 German states.

Apart from the introduction of the "Blue Card" due to the European law the proposal of December 2011 contains also some other changes:

There will be no minimum wage for highly qualified people.

Foreign graduates of German universities shall be granted an unlimited residence title (settlement permit) after two years of work.
The administrative procedure for residence titles for scientists shall be facilitated.
Foreigners who have come to Germany for a vocational training will be allowed to stay in Germany for a year after the successful end of the job training. Such beneficiaries shall use the time for finding a job.


Security aspects

A foreigner who is suspected to be a terrorist can be expelled on a prognosis, it is not necessary that such a foreigner has broken the law. In the same way a preacher of hatred can be deported or a foreigner who supports terrorist crimes in a public way or who calls for the use of violence or threatens by announcing such actions. Further on, men who smuggled foreigners into Germany and have been sentenced to imprisonment for this have to leave the country.
The new law brings more work for the German Intelligence Services. Before a residence title shall be granted the personal data of such applicants can be transferred to the intelligence services (Offices for the Protection of the Constitution, Federal Intelligence Service and Military Counterintelligence). They have to proof whether there are any objections. In case of the settlement permit this procedure will become standard. It is obligatory before a naturalization.
Advertisement
Picture above: The Minster of Ulm has the world's tallest church tower (161.5 metres or 530 feet).
(CC BY-SA 3.0, Patrick Six)

Picture above: The Cologne cathedral. Its construction began in 1248. The towers are 157 metres tall (515 feet).
(CC BY-SA 3.0, Rolf Heinrich)

Picture above: The Loreley, a rock on the Eastern bank of the Rhine River.
(CC BY-SA 3.0, Dirk Schmidt)

Picture above: The Holsten Gate

(German: Holstentor)

, a city gate in the Hanseatic City of Lübeck. (CC BY-SA 3.0, Arne List)

Picture above: The Fernsehturm (TV tower) and the Marienkirche (St. Mary's Church) in the city centre of Berlin. With its height of 368 metres (1,207 feet), the tower is the tallest building of Germany. The tower was built between 1965 and 1969 in the era of the German Democratic Republic. The pictured church is much more older, its construction began in the thirteenth century.

(CC BY-SA 3.0, Lokilech)
Picture above: The Wartburg Castle near Eisenach in Thuringia. Germany is also the country of the Protestant Reformation. It was here where Martin Luther (1483-1546) translated the Bible into German.

(CC BY-SA, Thomas doerfer)

Picture above: Neuschwanstein Castle in Southern Bavaria. The castle was commissioned by the mentally troubled Bavarian king Ludwig II (1845-1886).
(CC BY-SA, Softeis)